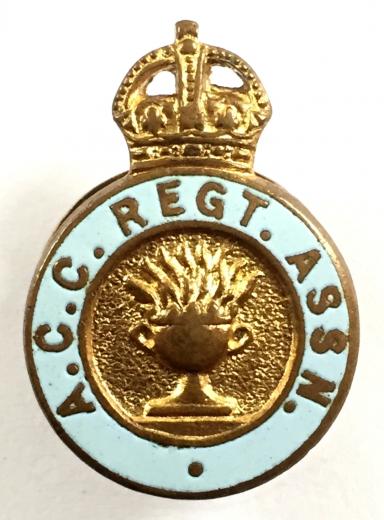 Army Catering Corps Regimental Association Lapel Badge by J.R.Gaunt, London.

A comparatively scarce post-1941 'Army Catering Corps regimental association lapel badge'; small size gilded brass example in the form of a King's Crowned title circlet "A.C.C. Regt. Assn" the centre depicting an 'ancient Grecian brazier with emanations rising', the reverse impressed with maker's details "J.R.Gaunt London". Good condition, retaining original buttonhole fitting, enamel a... read more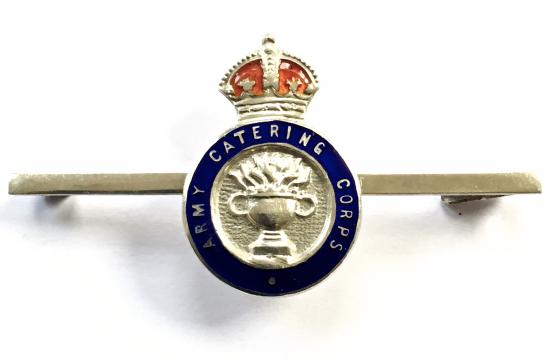 WW2 Army Catering Corps Silver & Enamel ACC Sweetheart Bar Brooch or Tiepin.

A comparatively scarce post-1941 Second World War period 'Army Catering Corps sweetheart brooch', in the form of a King George V Crowned title circlet the centre depicting an 'ancient Grecian brazier with emanations rising', the reverse impressed "Silver". Excellent condition, retaining original pin fittings, enamel perfect.
Width 50mm.
Height 25mm.

The '... read more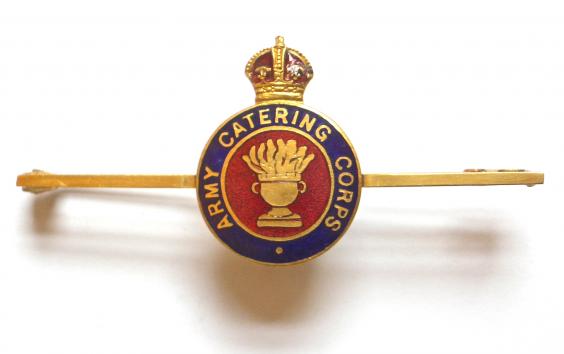 Army Catering Corps gilt and enamel sweetheart brooch

A rare opportunity to purchase a mint gilt and enamel 'Army Catering Corps sweetheart brooch', part contents of a Second World War sales representative's sample case. Very good condition, retaining original pin fittings, no damage to the enamel.
Width 56mm.
Height 24mm. read more