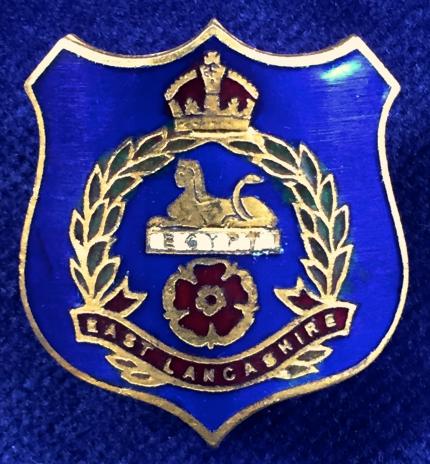 WW1 East Lancashire Regiment Blue Enamelled Shield Sweetheart Brooch.

A scarce original First World War period 'East Lancashire Regiment sweetheart brooch'; gilded brass convex shield inlaid with vivid blue enamelling and bearing the badge of the regiment. Very good condition, original pin fittings, enamel perfect, gilt remains fresh.
Height 27mm.

ALL BROOCHES ARE SUPPLIED WITH A BRAND NEW BLACK PLUSH LINED PRESENTATION BOX.
read more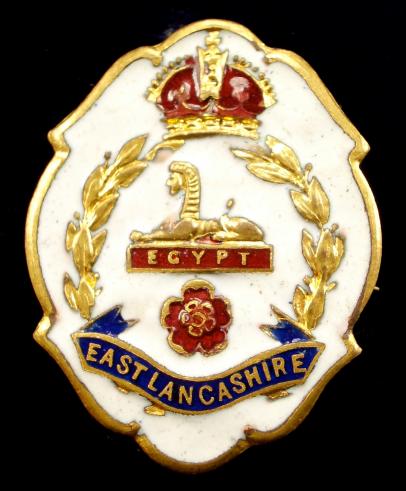 WW1 East Lancashire Regiment White Faced Enamel Sweetheart Brooch.

A scarce First World War period 'East Lancashire Regiment gilt and enamel sweetheart brooch'; set on white enamel ground a sphinx on Egypt tablet, red rose of Lancaster below, within a crowned laurel sprays and blue enamel title scroll. Very good condition, retaining original pin fittings, no damage to the enamel, gilt remains fresh.
Height 29mm.

ALL BROOCHES ARE S... read more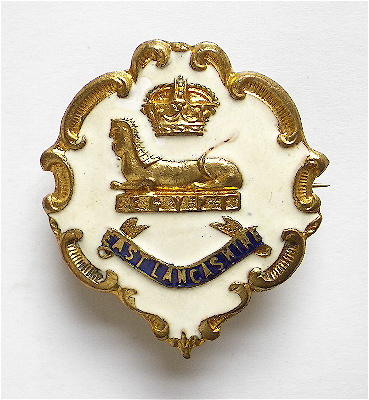 East Lancashire Regiment white faced enamel sweetheart brooch

A scarce First World War period 'East Lancashire Regiment gilt and enamel sweetheart brooch'; set on white enamel ground a sphinx on Egypt tablet, Crown above, blue enamel title scroll below. Very good condition, retaining original pin fittings, no damage to the enamel, gilt remains fresh.
Height 35mm.

ALL BROOCHES ARE SUPPLIED WITH A BRAND NEW BLACK PLUSH LINED PR... read more